Quality at the core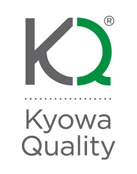 At Kyowa, quality comes first. We've leveraged 60+ years of manufacturing expertise to deliver consistently pure and efficacious products. Because quality assurance is the driving force behind everything at Kyowa, quality standards steer development in numerous departments, including product development, manufacturing, marketing and sales. Our quality-first approach to doing business means our customers receive reliable, high-quality products that perform as promised.
Kyowa Quality®
The Kyowa Quality logo marks an extensive line of ultra-pure amino acids and related compounds that go far beyond mainstream commodities in quality assurance. The Kyowa Quality logo guarantees ingredients that are backed by our commitment to the highest standards.
Technology
KQ is dedicated to the pursuit and implementation of new technologies for: (1) producing unique, biologically active compounds; (2) refining products to eliminate impurities; and (3) reducing the environmental impact of our manufacturing processes. Beginning with our core fermentation technology for the industrial production of amino acids and extending into the discovery of a novel method for forming di- and tri-peptides, KQ continues to lead the industry in developing new technologies that improve ingredient performance with guaranteed quality.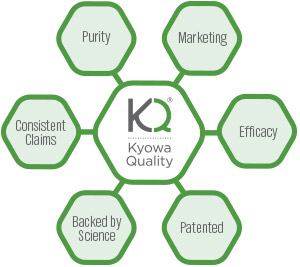 Quality
KQ products are compliant with the requirements of major pharmaceutical official monographs; Japanese pharmacopeia (JP), Pharmacopoeia of the United States of America (USP), European Pharmacopoeia (EP). Our high-quality bulk APIs (Active Pharmaceutical Ingredient) are sold to pharmaceutical companies around the world.
Science
KQ products benefit from KYOWA's long-standing commitment to research, including our on-site research and development staff. Studies on the human health benefits of KYOWA products have been published in peer-reviewed journals and cover a broad range of topics.
Reliability
KYOWA is dedicated to ongoing scientific research, quality management, and consumer education, and expends considerable resources in testing the efficacy, safety, and reliability of its products. This dedication has come to be known world-wide and represents the promise of consistent quality and purity.