Kyowa Hakko Bio has established a novel production system for oligosaccharides and sugar nucleotides. Oligosaccharides are expected to be used as potential nutraceuticals, and sugar nucleotides are used for the enzymatic synthesis of oligosaccharides.
What are Oligosaccharides & Sugar Nucleotides?
Oligosaccharides are sugars that contain a few single sugar units such as Glucose. Several kinds of oligosaccharides exist in nature. For example, it is known that human milk contains certain kinds of oligosaccharides.
Artificial Biosynthesis of Oligosaccharides
The oligosaccharide production system was established by coupling the recombinant Escherichia coli expressing glycosyltransferase genes with our unique sugar nucleotide production system. We confirmed effective production of oligosaccharides such as Globotriose, Lacto-N-neotetraose, 3'-Sialyllactose, 6'-Sialyllactose.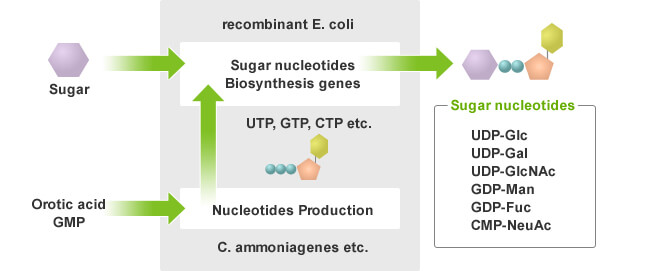 Artificial Biosynthesis of Sugar Nucleotides
The sugar nucleotide production system was established by combining recombinant Escherichia coli expressing genes involved in sugar nucleotide biosynthesis and Corynebacterium ammoniagenes which have strong activity to form nucleoside 5'-triphosphates such as UTP and GTP. Kyowa Hakko Bio has confirmed the efficient production of sugar nucleotides listed below.

GDP-fucose, GDP-mannose,
CMP-acetylneuraminic acid, UDP-glucose,
UDP-galactose and UDP-N-acetylglucosamine.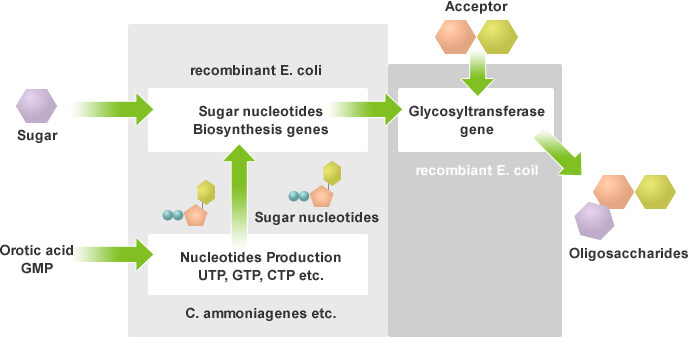 Research papers
S. Koizumi, T. Endo, K. Tabata, A. Ozaki, Large-scale production of UDP-galactose and globotriose by coupling metabolically engineered bacteria. Nat. Biotechnol., 16, 847-850 (1998)
T. Endo, S. Koizumi, K. Tabata, S. Kakita, A. Ozaki, Large-scale production of N-acetyllactosamine through bacterial coupling., Carbohydr. Res., 316, 179-183 (1999) T. Endo, S. Koizumi, K. Tabata, A. Ozaki, Large-scale production of CMP-NeuAc and sialylated oligosaccharides through bacterial coupling., Appl. Microbil. Biotechnol., 53, 257-261 (2000)
K. Tabata, S. Koizumi, T. Endo, A. Ozaki, Production of UDP-N-acetylglucosamine by coupling metabolically engineered bacteria. Biotechnol. Lett., 22, 479-483 (2000)
T. Endo, S. Koizumi, K. Tabata, A. Ozaki, Cloning and expression of beta 1,4-galactosyltransferase gene from Helicobacter pylori. Glycobiology, 10, 809-813 (2000)
T. Endo, S. Koizumi, Large-scale production of oligosaccharides using engineered bacteria. Curr. Opin. Struct. Biol., 10,536-541(2000)
S. Koizumi, T. Endo, K. Tabata, H. Nagano, J. Ohnishi, A. Ozaki, Large-scale production of GDP-fucose and Lewis X by bacterial coupling., J. Ind. Microbiol. Biotechnol., 25,213-217(2000)