Well that's CPhI over for another year! The world's leading pharmaceutical outsourcing event took place at the beginning of this month in Barcelona. Months of planning and hard work and guess what? It all paid off!
A hugely successful event held in one of the most beautiful cities in Europe, good weather, good food, beautiful architecture and best of all good company. We had a record number of visitors to our booth, and as always it is the customers that make it all worthwhile. It was great to meet with our existing partners and discuss the future opportunities together. We also generated a lot of new interest in our company and products.
Massive thank you to all those who contributed to the success of this event for us, not just those in the photo below who were lucky enough to attend but also the back off staff and contractors who helped us pull it all together.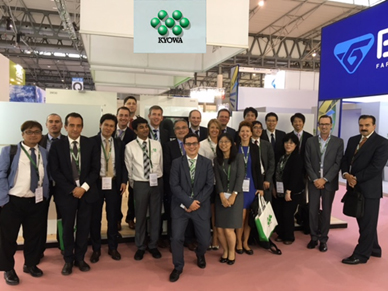 Thanks everyone and see you all again next year!
Kyowa Hakko Europe