Cognizin® Citicoline Presentation was held at Vitafoods Europe
An affiliate company of KYOWA HAKKO BIO CO., LTD. (President and CEO: Chikakuni Kotani), KYOWA HAKKO BIO ITALIA S.R.L. (Italia, Milan) held its presentation on "Cognizin" during "Vitafoods Europe", the biggest health and functional food exhibition in Europe from 5th to 7th May in 2015. "Cognizin" is Kyowa's brand name of Citicoline, a compound of Kyowa's strategic products which has been manufactured and sold for many years.
Visitors of "Vitafoods Europe" were not only from Europe but also from the Middle East, other neighboring countries, and the U.S. Many participated in our Cognizin presentation. (Photo; Karen Todd, senior director of global marketing, KYOWA HAKKO U.S.A., INC.)

A proprietary form of Citicoline, Cognizin® is a nutrient that's been clinically studied and developed using a patented fermentation process, Cognizin is a pure, allergen-free GRAS ingredient.
Cognizin® Citicoline is a food ingredient in North America found in many dietary supplements and beverages . Kyowa is the first company in Europe that succeeded in registering its Citicoline for Novel Food. The registration of Novel Food requires safety assessment by EFSA (European Food Safety Association), the highest authority in Europe. Kyowa's Cognizin Citicoline can be used for all kinds of supplements in Europe with its Novel Food registration.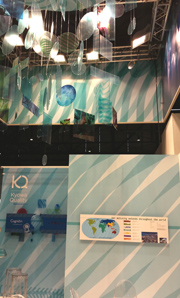 Many visitors came over to Kyowa's booth for all three days even after its Cognizin presentation. We sincerely appreciate visits of those who kindly stopped by at our booth.
As a global company we, KYOWA HAKKO BIO strive to contribute to the health and well-being of people around the world by creating new value through the pursuit of advances of life sciences and technologies.
About Citicoline: Citicoline is a raw material that is used directly in the synthesis of phosphatidylcholine, one of phospholipids that form the main constituents of the cell membrane.
More information:
Cognizin® Citicoline
KQ (Kyowa Quality)