Amino Acid Manufacturing Plant in Thailand completed
Tokyo, Japan, April 9, 2015 --- Kyowa Hakko Bio Co., Ltd. (Tokyo, Japan, CEO: Chikakuni Kotani, "Kyowa Hakko Bio") announced, THAI KYOWA BIOTECHNOLOGIES CO., LTD. (Rayong Province, Thailand, CEO: Akira Tsukihashi, "THAI KYOWA BIOTECHNOLOGIES"), a subsidiary of Kyowa Hakko Bio, has completed the construction of a new manufacturing plant for amino acids in Thailand.
The market for amino acids has expanded rapidly in recent years, due to worldwide growth of the pharmaceutical, medical and healthcare markets and this trend is expected to continue in the future. In particular, the amino acid market in the Asian region is growing rapidly, brought about by the westernization of lifestyle, as well as population growth and economic development. Based on the projected increase in demand, Kyowa Hakko Bio completed the construction of THAI KYOWA BIOTECHNOLOGIES, introducing a state of the art manufacturing technology to complement its existing production sites in Japan, China and the USA. The aim of having multiple production sites is to further strengthen Kyowa Hakko Bio's production capacity so as to enhance its ability to provide high-quality, consistent and stable supply to our customers and in the process helps to increase customer satisfaction and improve the lives of people using our products.
Kyowa Hakko Bio, as a member of the Kyowa Hakko Kirin Group, is well positioned in the manufacturing and marketing of amino acids for use in infusion feeding, pharmaceutical ingredient, medical foods, health foods, cosmetics etc and it will continue to expand these activities globally to become one of the world's top biochemical companies.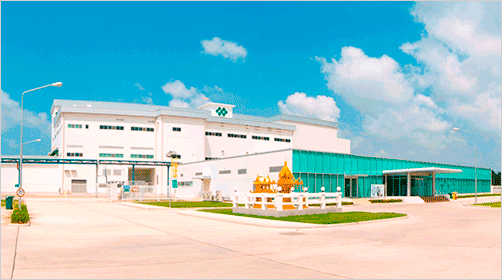 Summary of new amino acid plant
Scale
RC construction, four stories, total floor area of approx. 19,000 m2
(Total site area 216,000 m2)
Purpose
Manufacture of amino acids for use in infusion feeding, medical foods and health foods
Yearly production
2,200 tons
Schedule
Start of operations: April 2015
Launch of commercial production: Second half of 2015
Total investment
Approx.¥10.6 billion, including costs of land, plant construction, and opening